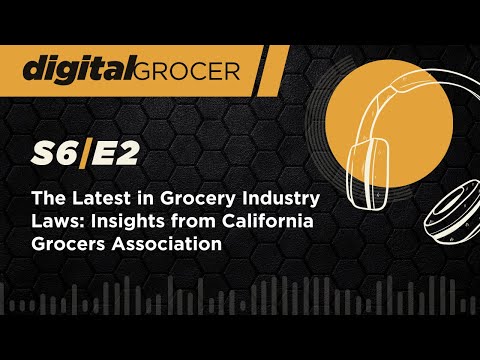 <iframe width="560" height="315" src="https://www.youtube.com/embed/DgbuxfSvicg" title="YouTube video player" frameborder="0" allow="accelerometer; autoplay; clipboard-write; encrypted-media; gyroscope; picture-in-picture; web-share" allowfullscreen></iframe>
The Latest in Grocery Industry Laws: Insights from California Grocers Association | Digital Grocer S6E2
Celebrating 125 years of service to grocery retailers, California Grocers Association is recognised as a leading resource in government and industry relations for grocery retail. Grocery stores are a huge part of our communities and can easily be impacted by legislative changes every year.
In the latest episode of Digital Grocer, hosts Sylvain Perrier and Mark Fairhurst are joined by Doug Scholz, Senior Vice-President and Chief Operating Officer at California Grocers Association. Advocating for a state with over 39 million people, California Grocers Association works at the state level to actively engage elected officials. Our trio discusses the scope of new laws impacting grocery retail every year and how California Grocers Association is at the forefront of taking action to support grocery businesses, especially smaller retailers who are unlikely to have their voices heard by state legislators.
Tune in to the full episode now! And don't miss Sylvain and Mark in Palm Springs for the California Grocers Association Strategic Conference from September 24-26.
Doug Scholz
Doug Scholz
Doug Scholz, Senior Vice President and Chief Operating Officer, California Grocers Association
Doug Scholz is Senior Vice President and Chief Operating Officer for the California Grocers Association (CGA). He is responsible for leading the organization's communications, finance, membership engagement, events and revenue development efforts, as well as overseeing the marketing strategies to enhance the overall image, reach and effectiveness of the Association.
Doug joined CGA in 2010 as Senior Director, Business Development and Strategic Partnerships, and has steadily grown his role and responsibilities during his tenure with the organization. Over the past eight years, he has overseen significant growth in membership and revenues for the country's largest state grocery trade association. In 2014, Doug served a critical role in completing the Association's merger with the California Independent Grocers Association and oversees the Independent Operators Committee that resulted from that merger.
Prior to joining CGA, Doug built a 20-year career developing strategic alliances and partnerships in the professional sports, convention, travel and entertainment industries.
Doug is a graduate of Santa Clara University with a bachelor's degree in marketing.
Full Transcript
00:00:05:02 – 00:00:22:18
Sylvain
Ladies and gentlemen, welcome to Digital Grocer Season 6 Episode 2 I can't believe are already at episode two. I am your co-host, Sylvain Perrier, and joining me today is the one and only fresh eyed Mark Fairhurst.
00:00:22:24 – 00:00:30:25
Mark
I would I wouldn't say fresh eyed. I yeah, it's good to be back. I still need these things for reading up close.
00:00:31:01 – 00:00:36:14
Sylvain
You do? Yeah, well, you've got laser eyes surgery. I think so. It's great.
00:00:37:01 – 00:00:43:09
Mark
Yeah, just some ocular implants, too. So it's like inject Steve Austin theme here.
00:00:44:01 – 00:01:07:02
Sylvain
I love it. I love it. Great. So listen, Mark, we have a a good show today planned for our audience. You know, it's been no secret. The deeper that we get into retail at Mercatus, you start to realize how the industry really starts to cut across so many aspects of everyone's life.
00:01:07:02 – 00:01:29:10
Sylvain
And we experience that through the pandemic, where you see that more so now kind of with the macro environment and the more that we're kind of tuning in to local authorities at the municipal level, at the state level, and at the federal level, you start to realize the policy that they're creating is can have this massive impact on the food retail industry.
00:01:29:11 – 00:01:37:10
Sylvain
I think, you know, recently we just saw a case where are the CEO of Loblaws was in front of a parliamentary committee.
00:01:39:07 – 00:02:17:06
Mark
Yeah. So our version is the of the U.S. government. So yeah, all the CEOs of the major Canadian grocery retailers are brought in because of the, you know, the rise in food prices. And then I think those food prices are continuing to to remain elevated. And what's even worse is after Galen Weston presented to the committee, then then Loblaw announced his is a pay increase which which you know, politically it was probably not the most astute move, especially as consumers.
00:02:17:06 – 00:02:30:00
Mark
I think there was a report out today that over a third of Canadian consumers believe grocery retailers are taking advantage of the inflationary environment to increase profits.
00:02:31:18 – 00:03:00:03
Sylvain
Yeah. And so when you come to realize at the end, end of the day, our retailers have an impact on our communities and even more so, helping the nation, whether it's Canada, the U.S. doesn't really matter, is helping them thrive. Now, at Mercatus, we've been fortunate in the last few years we've joined as a member the California Grocers Association, and we referred to it as CGA.
00:03:01:13 – 00:03:27:12
Sylvain
And so just for our listeners understand the juxtaposition of California as the state in the United States, its economy eclipses all of Canada's economy right? In Canada, we're 30, 37 million, I think. And we actually just added a million, a million more people in the last year, which is great for us because our population that is is aging.
00:03:27:24 – 00:04:00:24
Sylvain
Now, the one thing that that once you start to kind of get get to know the folks at CGA is not every retailer is created in the same lightway. You meet members that have one or two stores. You work alongside retailers that have hundreds, if not a thousand stores across, not just California, but the nation. And so how did the the smaller retailers that are facing the brunt of the same impact as as a large retailer, how did they deal with that?
00:04:00:24 – 00:04:27:13
Sylvain
And in certainly one case that I can point to is when the California consumer protection law came in, the digital privacy legislation, how does a small retailer adapt to that and not know how to get you know info from a representative in government and so on? Well, along comes the CGA, which is great. Now to help us learn a little bit more about CGA, its role in the community.
00:04:28:09 – 00:04:38:21
Sylvain
We decided to bring in an expert and his name is Doug Scholz. He's the senior VP and Chief Operating Officer. Doug, welcome to Digital Grocer.
00:04:39:17 – 00:04:41:15
Doug
Thank you Sylvain, it's great to be here.
00:04:42:15 – 00:04:49:16
Sylvain
Awesome. Well, great to have you. So now let's let's start off it. Help us understand a little bit about the history of CGA.
00:04:50:20 – 00:05:13:06
Doug
Sure. And before I do that again, thank you for this opportunity to share a little bit about of how the sausage is made in the association business and in politics in California specifically. A lot of what I'll talk about is probably very specific to California, but really appreciate and thankful for the opportunity to kind of talk a little bit about my my company.
00:05:13:09 – 00:06:05:13
Doug
CGA So yeah, we are celebrating a milestone this year, 125 years. CGA was founded in 1898, which is particularly impressive in California terms because if you consider the real influx of people to California was in 1848 with the gold rush. So CGA has been around a long, long time founded by independent grocers. Obviously that's what was in business here in California during that time and that really has been the case for many, many years, that the independents have been very strong here in California, obviously since that time, doing business in California as has become more complex.
00:06:05:25 – 00:06:38:00
Doug
And as a result, the association has kind of needed to evolve with those new challenges. So, you know, one of the things that I talk a lot about and celebrate a lot about CGA is the diversity of our membership, or I'll say the variety, but also diversity of our of our members. And when you think about California and what that looks like, you know, California's spans urban and rural areas across the state.
00:06:39:02 – 00:07:20:11
Doug
There's we certainly have very large retailers within our membership, but those single store operators that were the lifeblood of the association are still present, very active. And then obviously, every format, whether it's ethnic focused banners or whether it's the natural, organic or co-op members, we have all those. And then further to kind of think about it, you know, you have the discount channel is present in our membership, the convenience channel is in our membership as well as Digital First Grocers, which is a new incarnation that are all within our membership.
00:07:20:11 – 00:07:57:01
Doug
So it's a very diverse membership and we also have a lot of suppliers like yourselves that are service providers to those retailers, large manufacturers, etc. So and then of course I am not I won't not pander to my, my board and say, you know, we also have fantastic board of directors. It's very large. We have about 55 people that are on our board of directors that really help guide the overall mission and kind of purpose of the association.
00:07:57:01 – 00:08:01:03
Doug
And they're a fantastic group, to work with.
00:08:01:03 – 00:08:33:11
Sylvain
So it's true. Yeah. And I appreciate I appreciate that. I think that that one thing from our perspective, you know, Mercatus is headquartered in Toronto and I always find Canada and not Canada, but California sets the tone a lot from a legislative perspective. I find in retail, specifically grocery retail, that trickles its way eventually to Washington. And so so can you give us some examples how CGA advocates for its members?
00:08:34:16 – 00:09:04:01
Doug
Yeah, of course. Backing up a little bit, I'll say, you know, obviously there's an association for everything. There's even an association of associations, but not all associations look the same. Their mission, their purpose, their scope. Some are very focused on accreditation. If you're talking about some of the like medical or dental associations, things like that. But for us really our one of our biggest roles in the industry is about advocacy.
00:09:05:03 – 00:09:40:03
Doug
And it's especially critical in a low margin business like grocery, where laws can have an outsized impact on the viability even of a grocer. And as you pointed out, especially in California, it's it's certainly a full time job for us. We employ six lobbyists to be able to monitor and engage elected officials at the state level, but also down into the cities across California, which all have various strifes, as I kind of mentioned earlier.
00:09:40:03 – 00:10:03:06
Doug
So, you know, California gets so much focus and attention and a lot of people are maybe curious as to why. I think it goes to what you were talking about. A lot of the issues are they kind of get their start here. It it's almost like California has become kind of a proving ground for certain ideas and concepts.
00:10:03:14 – 00:10:24:24
Doug
And if they prove themselves out, then others that are so inclined will kind of jump on that bandwagon. Yeah. And the other couple of reasons that California gets a lot of interest within the food industry segment in particular is the outsized opportunity from a business perspective.
00:10:24:24 – 00:10:53:00
Doug
You mentioned population 39 million people live in California. If you look at that and compare it across just the United States, one of every eight people live in California that lives in the United States, which is pretty crazy if you stack up from a GDP perspective and contribution to GDP perspective, our economy would be the fifth largest in the world, which is pretty crazy.
00:10:53:02 – 00:11:19:22
Doug
And then as I mentioned, that just the pure geography and scope of this state, you know, it's 800 miles from top to bottom. It takes you 14 hours to drive it, which is not as long as it probably takes to drive across Canada. But it is a very large state and very diverse geographically, etc., from beaches and coast to inland.
00:11:20:17 – 00:11:54:05
Doug
And then the third point I kind of make in that regard is that people may intuitively know, but California's agricultural production is significant. A third of all U.S. vegetables are grown in California, and three quarters of the U.S. fruits and vegetables are grown here in California. So, you know, for the food industry, you know, it starts taking on an added dimension that it's not just retailing related advocacy, but it's also farmers and and everybody up and down the supply chain.
00:11:55:03 – 00:11:55:10
Sylvain
Yes.
00:11:56:03 – 00:12:36:22
Doug
And, you know, if I kind of monologue here a little bit, but the the scope of the and the Acts act activity of the legislature is also something that's kind of unique to California this year, 2600 a little over 2600 bills were introduced. We our legislature meets every year. Not all states have a legislature that meets every year, but that's 2600 potential new laws being introduced last year, a thousand new laws were signed by the governor and he only vetoed like 170.
00:12:36:22 – 00:13:13:07
Doug
So if they make it out of the state legislature and they get to the governor's desk, they have a you know, I think that's 86% success rate of being signed into law. So we have to be very active and engaged with those elected officials as they're coming up with ideas that impact the businesses. And I'll also say that I think you can't underestimate the number of those ideas or those bills that impact the grocery industry.
00:13:14:07 – 00:13:37:06
Doug
You know, if you think about, like I mentioned, anything on the front end of the supply chain around agriculture, but anything to do with employees because we employ thousands, anything to do with property ownership that impacts us food labeling, food handling, you know, packaging. Those are all big issues crime, homelessness, those all impact our guys.
00:13:37:06 – 00:13:38:12
Sylvain
So yeah.
00:13:39:01 – 00:13:40:05
Doug
It's a lot it's interesting.
00:13:40:13 – 00:14:06:03
Sylvain
It's it's a lot. My impression has always been, you know, watching California from afar, being a technologist is the world's eyes are consistently on that state now. There's been pillars for for all eyes. It could be because of the tech sector and think we know a lot of great ideas have have come out of California and proliferated across the globe.
00:14:06:10 – 00:14:41:04
Sylvain
Social media being one of them, quite frankly, create an entire new industry. Second one, the entertainment industry. But the third is a majority of the goods flowing in from the West actually land in ports in California. And if you're if you're a grocery retailer, my view is that it's a battleground because everyone wants to have a grocery store or a retail store in California because you access the population, the new ideas that are emerging.
00:14:41:06 – 00:15:06:22
Sylvain
And it's got to be a massively fierce battleground. So I appreciate you sharing that perspective. You know, there's one thing that you guys do, and I see this on your website. We talk about it at some of your events. It's this whole continuing education opportunity that's there for industry employees and their children. And it's not something that we see necessarily in some of the other associations that they're wondering.
00:15:06:22 – 00:15:09:11
Sylvain
If you could share a little bit about that with our audience.
00:15:10:07 – 00:15:40:04
Doug
Yeah, absolutely. We'd love to talk about that aspect of CGA. It's it's it's just near and dear to our hearts because it's the opportunity to really kind of give back to our industry and those that are working so hard in our industry. So I'm referring to the CGA Educational Foundation. It was established in 1991, you know, with that mission to to give back to CGA members, employees and their families.
00:15:41:03 – 00:16:22:00
Doug
It is a separate, nonprofit, charitable, nonprofit and separate organization with its own executive director, its own Board of trustees, etc.. But its programs primarily fall into two, two and a half categories. So scholarship opportunities, tuition reimbursement opportunities, and then obviously just educational programing that the foundation puts forward relative to scholarships. This year, the foundation will give out over $800,000 in scholarships to industry employees or their dependents.
00:16:23:01 – 00:16:51:23
Doug
Yes, I double underline and highlight that one $800,000 just this year. Last year was over $800,000. It seems to continue to grow. One of the reasons I think it does continue to grow this program and also the tuition reimbursement program is because developing your employees is good business. It adds to retention, it adds to growing the next level of leadership within your company.
00:16:51:23 – 00:17:27:11
Doug
So our members are very generous in donating the funds to allow employees to continue their education with tuition reimbursement. This is for employees of these grocery companies that are members and an employee who is taking classes, either online classes or in-person classes that are contributing to a discipline that would help them in their career in grocery, they can earn up to $2400 in reimbursement for those classes in a given year.
00:17:28:02 – 00:17:40:06
Doug
So that's just free money. So for those that are interested in, you know, pursuing their career in grocery, it's a great way to do that for maybe free.
00:17:40:06 – 00:18:00:17
Sylvain
So I think that's great. That is just amazing. That's amazing that you guys do that. And I think it's a big advantage. And you're so right. If you can really contribute to the growth of your employees, you're enriching your culture, you're making your company much better. And quite frankly, at the end, it just pays itself back to the communities where these people reside.
00:18:01:08 – 00:18:02:09
Doug
That's right. Yep.
00:18:02:13 – 00:18:25:18
Sylvain
I love it. I love it. Now, we've attended a lot of your events. We recently met up with the team at CGA in San Diego, which is one of my favorite cities in California. And you have a big event coming up in September at which we're really excited to go to. And maybe you can kind of share with us a little bit more detail of what's happening in that event.
00:18:26:02 – 00:18:34:09
Sylvain
And so kind of maybe talk about how does it unfold and the opportunities that some of the vendors have to connect with your retail members.
00:18:35:05 – 00:19:15:19
Doug
Awesome. Thank you again for the question and opportunity to talk about that. You know, I think backing up a little bit, I'll tell you that, you know, although advocacy is our primary, it's our headline. It's what we're known for, providing those opportunities for collaboration, whether it's retailer to retailer or whether it's supplier to retailer or retailer to. The supplier is really a secondary or one be mission of the association and you know as competitive as our members are across the street from each other when they come to CGA.
00:19:15:19 – 00:19:41:12
Doug
It's the opportunity I think, to focus on the common challenges within our industry or look for ways that we can really kind of collaborate. So the event that you're talking about is one of our our two big conferences is the CGA Strategic Conference, which takes place at September in Palm Springs. This year it's September 24th through the 26th.
00:19:42:21 – 00:20:08:19
Doug
And you know, it features three days of kind of thought provoking educational content. But the core aspect of that event is Pre-scheduled meetings that CGA creates with input from the sponsors and from the retailers. Over the course of three days, we typically do around a thousand meetings or over to two of those three days we do those meetings.
00:20:08:19 – 00:20:38:23
Doug
So it's a tight, productive, meaningful opportunity to connect with partners and and have have meetings that further your business objectives as well as all the social events and other things that kind of make it feel like a community. I think that was one of your impressions the first time you attended was how intimate and close that event kind of creates that feeling for the attendees.
00:20:38:23 – 00:20:56:00
Doug
Yeah, I will say Mercatus. Between Mark and myself, we attend all the key events in industry and then some. We try to go to the smaller, more niche ones in what I call a secondary markets.
00:20:56:02 – 00:21:22:02
Doug
The big difference that I find when I go to the the CGA event, there's a strong sense of camaraderie in the room and it's intimate in the sense, in the sense that it's easy to talk to maybe an A vendor that you think you could have a business relationship with and you can brainstorm something or you may have.
00:21:22:04 – 00:21:48:09
Sylvain
We have competitors here in the room. There's there's certainly no animosity. So you're talking to those guys, Hey, how's this working? How's that working? But the beauty is, is everyone is at the same starting line with the appetite and the desire to learn and that right away creates this openness and transparency, which I think you guys get ten out of ten.
00:21:49:04 – 00:21:51:07
Sylvain
So 100%. Yeah.
00:21:51:19 – 00:21:52:05
Doug
Thank you.
00:21:52:06 – 00:22:18:08
Sylvain
You're welcome. You're welcome. Listen, it's been great having you in the show. And and I will say, for any of the vendors that are listening today, if you're not part of the CGA team, you're not a member, Go to the website, reach out to Doug and his team. Be part of this because at the end of the day, we're only as good as the relationships we have in industry and this is the right team to get you on the right track to doing that.
00:22:20:09 – 00:22:36:07
Doug
Yeah, and thank you again for the opportunity and we have a fantastic team at CGA. Couldn't do all that we do without the 15 or so folks that are pulling hard to support our members. So yay team. Yeah.
00:22:36:07 – 00:22:36:19
Sylvain
Awesome.
00:22:36:19 – 00:22:38:06
Doug
Thank you for the opportunity.
00:22:39:01 – 00:22:44:16
Sylvain
You're welcome. Welcome. And Mark, as always, how do people get a hold of us? Yeah.
00:22:45:10 – 00:22:52:04
Mark
Certainly. Doug, great discussion around, you know, your advocacy, your industry support and good work. So thank you for that.
00:22:52:14 – 00:22:56:07
Sylvain
Thank you, everyone. We will see you the next episode.
00:22:57:11 – 00:23:18:07
Mark
Thanks for watching and listening to our show. We've got more great episodes on digitalgrocer.com and we'd love to connect with you on social media @digitalgrocer on Facebook, Instagram and LinkedIn and that digital_grocer on Twitter. Like subscribe and click that bell icon so you never miss another digital grocer podcast.
Show full transcript...