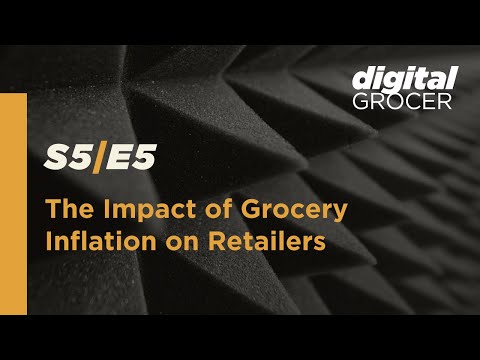 <iframe width="560" height="315" src="https://www.youtube.com/embed/pW34uZnC2BA" title="YouTube video player" frameborder="0" allow="accelerometer; autoplay; clipboard-write; encrypted-media; gyroscope; picture-in-picture" allowfullscreen></iframe>
The Impact of Grocery Inflation on Retailers | Digital Grocer S5E5
In Part 2 of this 3 part series, Sylvain Perrier and Mark Fairhurst welcome John Lucot, retired President and Chief Operating Officer of Giant Eagle, as they discuss the effects of grocery inflation on retailers. Lucot shares his insights on what is happening behind the scenes in terms of merchandising and operations and how retailers are responding to the challenge of inflation. He also discusses how the pandemic has affected grocery delivery and pickup and how that is likely to continue in the future. This is a must-listen episode for anyone involved in the grocery industry or interested in learning more about how inflation is affecting retail. 
Don't miss out on Part 1: Grocery eCommerce: Post-pandemic insights and strategy, the hosts were joined by Zac Wilson, the Director of eCommerce at Raley's Supermarkets, where they discussed what has occurred coming out of the Pandemic, how Rayley's responded, the early impacts of inflation and how it is effecting eCommerce, and how that has affected grocery delivery and pickup. 
John Lucot
John Lucot
John Lucot, Retired, President and COO , Giant Eagle
After a successful career in the grocery industry, John retired from his position of President and Chief Operating Officer at Giant Eagle in 2016. John continues to be active in an advisory capacity, sharing his deep grocery and industry knowledge.
Full Transcript
00:00:04:11 – 00:00:22:03
Sylvain
Well, ladies and gentlemen, welcome to Season 5, Episode 5 of Digital Grocer I'm your host, Sylvain Perrier, president and CEO of Mercatus Technologies. And joining me from the safety of his COVID free bunker Mark Fairhurst. Mark,
00:00:22:03 – 00:00:28:02
Mark
So it is very much COVID free. I think that is behind us. That's behind us.
00:00:28:02 – 00:00:39:08
Sylvain
Well, you know, the latest news now as of last night France has hit 70, is hitting 71,000 cases on a daily basis. So they're officially in their seventh wave
00:00:39:08 – 00:00:49:19
Sylvain
and so it will be an interesting time, I think, when we hit the fall. Bite your tongue. I will after because I need it right now to be able to do this podcast.
00:00:49:19 – 00:01:01:26
Sylvain
So we are back to what I like to call part two, which is a three part series where we are talking about the effects of inflation on the industry.
00:01:02:08 – 00:01:25:27
Sylvain
Our previous episode was with Zac Wilson in charge of e-commerce over at Raley's kind of talked about what's occurred coming out of the pandemic. What did Raley's do, the early effects of inflation, the impact on commerce what did we see in terms of the differences between delivery and pick-up is really exciting, and we want to continue that.
00:01:25:27 – 00:01:53:21
Sylvain
And we did decide to bring in a very special guest to help us out to kind of get a perspective of what's what happens really fundamentally behind the scenes from a merchandising perspective, an operations perspective. And it's John Lucot. John is retired president and chief operating officer from Giant Eagle, and he also sits on a bunch of boards and I want to welcome John to Digital Grocer.
00:01:54:11 – 00:01:55:21
John
Hi Sylvain. Nice to be here.
00:01:55:21 – 00:02:33:04
Sylvain
It's great to have you, John. So let's let's jump in you know, so now we're seeing in North America, COVID-19 has really subsided independent of what what's happening in Europe and a potential resurgence, which at this point we're not sure. But for the time being, have you seen a shift in how e-Commerce or not e-Commerce, but how retailers are reacting to certain extent with respect to COVID or inflation?
00:02:35:00 – 00:03:16:26
John
Well, inflation, obviously, with the what's happening with the with supply chain, there's many drivers to what's happening in inflation. The supermarket guys are struggling with labor and the price of labor raw materials, input materials, transportation. Now with fuel and the availability of products so they're finding this fight from a more multiple points of view. Most of these guys, if not all, are up to it.
00:03:16:26 – 00:03:23:22
John
They thrive on this. But it's a very, very challenging and difficult time.
00:03:23:22 – 00:03:30:26
Sylvain
and so there's a lot of blocking and tackling obviously happening at the merchant level. I would suspect at this point.
00:03:30:26 – 00:03:45:29
John
A lot of blocking and tackling from the merchant point of view. Understand what assortment looks like, what package sizes look like, how fast they would choose to pass pricing along to customers.
00:03:47:24 – 00:03:57:29
John
So in the availability, there's still a lot of categories that I think these companies are struggling to source.
00:03:57:29 – 00:04:20:13
Sylvain
So I would suspect John and you know, Mark and I just got back from touring the Midwest and we're hearing a lot of retailers and quite frankly, CPGs are doing this is a lot of SKU rationalization, kind of saying, hey, this doesn't sell we don't want to carry it anymore.
00:04:20:13 – 00:04:23:15
Sylvain
Is that something you're hearing in your circles as well?
00:04:23:15 – 00:05:16:09
John
I'm hearing some of that. I'm also hearing that production challenges for CPGs or leaving some of the retailers to say, look, I don't want the full broad assortment. I need the higher turning, higher demand items. So I heard that. I've heard that they're changing pack sizes so that they can you know, make them smaller in some cases so that pricing can stay on par family packs so larger packs that create a value for consumers that can be and perishables that can be across the store and the other thing is, is own brands.
00:05:16:26 – 00:05:30:16
John
I think people are trying to promote own brands or highlight own brands so that they can show some value to the customers in these trying times.
00:05:30:16 – 00:06:08:11
Sylvain
And so that's interesting. You say that because we just saw the numbers being published for Costco and they're surging right now. So the fact that people are willing to spend whatever that extra $90 for the membership that they have access to the bigger club format of the same item we're hearing mixed messages and I want you to help us set the industry straight that I'm hearing some retailers really like inflation you know because they can just pass the cost on and we're hearing that it.
00:06:08:11 – 00:06:23:09
Sylvain
it is detrimental to the business and they're seeing the basket sizes become smaller. People are trading down into the discount chains. And from your perspective, how do retailers react to this situation?
00:06:26:20 – 00:07:13:06
John
Well, there is some element of truth to retailers embracing some level of inflation because of the fixed cost nature of the business. But they're dealing with inflation not only on cost of goods, but dealing with inflation on multi, multiple fronts. And labor really is a significant challenge for all of them. So trying to balance a lot of things here; there is some merit in the idea that not all inflation is bad.
00:07:13:06 – 00:07:24:08
Sylvain
So what's what we're seeing right now and we are part three is going to be with Claire Fan, who is the chief economist at the Royal Bank of Canada.
00:07:24:08 – 00:07:44:23
Sylvain
And so we're going to be talking to clear about the impact of the geopolitical situation what's happening in Europe. I think most people who follow the climate changes in Europe right now, we're seeing drought in France, drought in Germany, drought in Italy and in the grain leaving the Ukraine. It could have an impact on commodity prices. That's prices around the world.
00:07:45:15 – 00:08:15:18
Sylvain
And so there's this idea if the feds pump the brakes too hard, that we're going to end up in a recession both in Canada and the United States. And you and I both lived through 08/09 the financial crisis, which was pardon my French, a shit show. And and so you lived through this. How how do retailers prepare for going from an inflationary period into a recession environment?
00:08:17:20 – 00:08:25:08
John
Well, you know, a lot of it's going to depend on what's happening with labor, labor supply and the unemployment rate.
00:08:27:09 – 00:09:05:05
john
Because we have periods of high unemployment. It's it's really compounds the inflation issue. Correct. So what happened to those 08/09 consumers, everyone thought they were going broke? Right. They lost the 401K over and lost their stocks they lost everything. And what I think I remember from that was how the other preferences changed, how they started the trade down, whether you couldn't afford to buy, you know, fillet, they would buy chicken or they're buying more rice and grains and things like that.
00:09:06:10 – 00:09:36:18
John
I think the price guys I think Aldi is an example that got discovered during 08/09 and the world has changed significantly since then with particularly with the pandemic accelerating, people embracing e-Commerce and understanding how powerful that can be for a retailer. So I think they're going to have to balance a lot of different things here.
00:09:37:29 – 00:09:54:16
John
You know what's going to happen with the price of oil, what's happening with it and how that affects customers and how it affects your own business, whether inbound or private fleets so they have a lot that's coming out.
00:09:54:16 – 00:10:05:01
Sylvain
Absolutely. And John, you're a seasoned veteran. You know, prior to retirement, you were in the thick of things. You're working with retailers today in an advisory capacity.
00:10:05:19 – 00:10:13:29
Sylvain
If you had to give some advice to the retailers that are listening today, what would you say?
00:10:13:29 – 00:10:33:05
John
what I would say is stay calm in adversity. There's always opportunity and step back and don't get caught in the fray so much. You know, it is a day to day battle. I get that. But I'd say stay calm, evaluate where opportunities are.
00:10:34:26 – 00:10:58:03
John
Don't be afraid to take risks because you're going to have to take some risks. You're not everything's going to work. There's no shame in that. Shame is, you know, not recognizing it and trying to make it work and have fun with it. I think people I wish I were in the fray, you know, people are going to learn a whole lot about themselves in the organization.
00:10:58:20 – 00:11:11:05
John
And this is something they'll look back on and remember that it'll impact them in profound ways it gained some level of calmness and having fun was always important to me.
00:11:11:05 – 00:11:27:12
Sylvain
Yeah, well, that's well-said. And I think if I remember back to, 08/09 the big there are some bold moves made at the time. Like I remember Safeway, you know, making that big decision to double down on private label early.
00:11:27:21 – 00:11:48:20
Sylvain
And I think even still today, we're seeing that here in Canada with a lot of retailers, Loblaws, Sobey's is a big example. Margins are better, safer to protect, I think, quite frankly, also easier to manage the supply chain. Well, perfect. John, thank you so much for being on the show. Love having you on. We will definitely get you back.
00:11:49:12 – 00:11:54:13
Sylvain
Thank you, everyone. Take care and have a wonderful day.
Show full transcript...