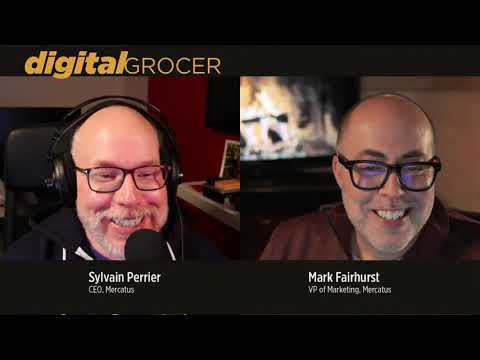 <iframe width="560" height="315" src="https://www.youtube.com/embed/z-woawuXnRg" frameborder="0" allow="accelerometer; autoplay; clipboard-write; encrypted-media; gyroscope; picture-in-picture" allowfullscreen></iframe>
The Supermarket Industry Costs of Convenience – Grocery Podcast S4 E5
The supermarket industry has undergone massive change in 2020. Retailers are focused on convenience, as shoppers demand contactless grocery services like curbside pickup and home delivery. But what are the costs of this convenience? Benjamin Lorr, author of The Secret Life of Groceries, joins The Digital Grocer podcast to share his insights from research in the field.
Sylvain and Mark kick off the episode by covering the latest news in grocery. Canadian retailer Metro has announced a new investment of $15M to build out dark stores. Loblaws will be testing autonomous vehicles in partnership with Gatik. Meanwhile, Kroger is building their 10th CFC with Ocado, furthering their investment in efficient fulfillment to improve eCommerce profitability.
As we consider the massive investments made in eCommerce and offering essential online shopping services in 2020, Benjamin critiques the core driver of eCommerce: convenience.
"I think that anyone who looks at the grocery industry for even half a moment sees how much energy is going into making things convenient and efficient…A lot of the most negative consequences that I came around up to totally exploited labor…But it's all driven by an incentivized system where the people… they're working so hard to get an edge in their own niche that these are ripple effects off of it."
Just how far can the race to convenience go? Mark notes, "Amazon's built Prime on the basis of convenience and you can see this brinkmanship when it comes to between Walmart and Amazon, get it in two hours, get it in one hour, get it in 30 minutes. How fast is fast enough?".
Tune in to the full podcast, where we discuss more supermarket industry insights and secrets uncovered in Benjamin Lorr's research for his latest book. 
Benjamin Lorr
Benjamin Lorr
Benjamin Lorr, Author
Benjamin Lorr is the author of two books, Hell-Bent, a critically acclaimed exploration of the Bikram Yoga community, and The Secret Life of Groceries, an immersive look at the world of grocery. Lorr is a graduate of Montgomery County public schools and Columbia University. He lives in New York City
Full Transcript
Sylvain Perrier:
Ladies and gentlemen, welcome to Digital Grocer episode 41. It's actually season four, episode five, but I just kind of like just incrementing that number. I'm your host, Sylvain Perrier, president and CEO of Mercatus Technologies. It's actually great. It's been such a long time since we've had the opportunity to record and joining me here from the safety of his warm, cozy, dank basement is Mercatus's VP of marketing, Mark Fairhurst. Mark, welcome to the show.
Mark Fairhurst:
Great to be back. Happy to be here.
Sylvain Perrier:
Hey, Mark. What's going on back there? It looks like you should be having a little scotch or a little Baileys or something.
Mark Fairhurst:
Well, that's just off camera. So you got the festive side.
Sylvain Perrier:
Yeah.
Mark Fairhurst:
And then you've got the anti dank fireplace.
Sylvain Perrier:
Yeah.
Mark Fairhurst:
The distance version.
Sylvain Perrier:
I think it's great. I mean, it's very apropos considering the snowstorm that we just had.
Mark Fairhurst:
Yeah. No, it's not much accumulation here, but I'm pretty sure you got a little more than I did.
Sylvain Perrier:
I, absolutely. We definitely did get a little bit more snow that you likely got because you're in the East end of the…
Mark Fairhurst:
Yeah. And for those of you who don't know the Toronto area, you stand pretty close to the Lake. So it's moderated by the large body of water that surrounds us.
Sylvain Perrier:
Lake Ontario.
Mark Fairhurst:
That's right.
Sylvain Perrier:
Which is great. I'm North of the city. So about 32 miles North of the city in suburbia. And we're not on lockdown here. Obviously, I think the city in itself is, and some other low lying areas around the city. So it's a completely different feel up here, but we certainly feels like it considering the snowstorm that we just got. Any case, we got a action packed show, lots to discuss about. Mark, I want to talk about Metro out of Montreal, they just made a really big announcement a week ago.
Mark Fairhurst:
Yeah.
Sylvain Perrier:
And they are spending, I mean, they've seen a tremendous increase in their online sales. They've actually gone ahead… And I think a lot of this, I'm not sure if this is in response, not just to the pandemic, but likely the fact that Sobeys with their Voila service is going to be servicing the Montreal area with their partnership with Ocado, but Metro has decided to build out a dark store. It's going to cost them roughly about 15 million Canadian to build this out, 15 million Canadian lop off 30%, that gives you a sense of what that costs in US dollars, but they're going all in. And Metro, I don't shop at Metro, they've never in my opinion in the Canadian landscape been, I wouldn't say not necessarily at the forefront of anything, but they are slowly starting to ramp up and are actually making some important strides. Which I think is great.
Mark Fairhurst:
Yeah. I mean, I'm fortunate to have one of those stores within like a five minute walk from where I am, but it is not set up for e-commerce, even though they've got a sign in their windows saying, "Click and collect", or for the American audience curbside is available. It's just not built out that way. But my guess is in Quebec where they're probably a little more downfield when it comes to enabling e-commerce, they're learning lessons. And what's interesting is I don't know if you've heard, I'm not sure if anyone is helping them build this out, but they seem to be taking it mostly in-house. And as you said, I think the recent uptick, huge swing in online orders, interest in online purchasing that we've seen right in the US, same thing's happening here.
Sylvain Perrier:
Right.
Mark Fairhurst:
They're doubling down on enabling that capability in those dense urban centers.
Sylvain Perrier:
Yeah. I've always had this impression that this is the reality of doing business in Canada. Not that this shows anything about politics, but if you're going to do business in Montreal, you have to have an office in Montreal. Or if you're going to do business in the province of Quebec, you have to have an office in the province, preferably Montreal. Quite frankly, you also have to have a French speaking CEO that's Quebecois, which I qualify for, but we don't do business.
Sylvain Perrier:
I mean, my sense was that Metro was always somehow involved with Orckestra out of Montreal, which does predominantly e-commerce on more its hard goods, soft goods side.
Mark Fairhurst:
Right.
Sylvain Perrier:
So competition with KIBO. So I'm not sure who's leading the charge for Metro, but best of luck to them and it's great to see a Canadian retailer do well in this space. Now, speaking of Canadian retailers, and we know that Loblaws announced their Q3 numbers not long ago. And then on the e-commerce side, they've hit a gain of 175%, which I think is just astounding.
Mark Fairhurst:
Yep.
Sylvain Perrier:
Did you see the news that they're going to be testing autonomous vehicles?
Mark Fairhurst:
Yeah, I did. To be honest, I'd never heard of the company they're going to be using. It's called Gatik.
Sylvain Perrier:
Yeah. Gatik AI out of California.
Mark Fairhurst:
Yeah.
Sylvain Perrier:
Now, was it last year or the year before we did a piece in the Canadian Grocer magazine and we kind of really discussed about, "Hey, what's the chances that we're going to see some form of autonomous vehicle roaming the streets of Toronto?" And I swore up and down, "Oh, it'll never happen. It will never happen." And I said that with the sense that I qualified it by, I don't think our municipal governments or provincial governments will have the kahonas to kind of step up and regulate this somehow. Right?
Mark Fairhurst:
Yeah, I know. Yeah. And I recall the conversation. Because I think it was when Loblaws announced that they were going to lease Tesla trucks for supply chains.
Sylvain Perrier:
Right. Yeah. Well, So there's some stuff happening in the industry. So, we've managed to kick the can down the road in terms of green energy, but in any case, some of the more bullish provinces in the country here, Quebec being one of them, and this is surprising. So I'm not sure where our province sits, but Quebec has said that by 2030, or it could be 2035, they will only allow 5%, excluding commercial vehicles, they will only allow 5% of new vehicles sold to be fossil fuel based.
Mark Fairhurst:
Wow.
Sylvain Perrier:
So the expectation is going to be full on electric. So now you're seeing some strong investments from Ford, GM and Chrysler and Tesla and so on and not just in the US landscape, but in the Canadian landscape to come out with some better green energy vehicles. I think that's going to open up the door for some really interesting innovations on the AI side for autonomous vehicles. Now what they're doing is these are not fully autonomous vehicles. It's actually five retrofitted Ford 350 transit vans that will have a pilot, a human being.
Mark Fairhurst:
Gotcha. There's a human co-driver.
Sylvain Perrier:
Yeah. A human co-driver.
Mark Fairhurst:
Yeah.
Sylvain Perrier:
Which I think is great. And I'm sure that Loblaws, much like any other company here in the Canadian market is taking advantage of some sort of government tax credit.
Mark Fairhurst:
Yeah.
Sylvain Perrier:
To try this out, right? Anyways, these trucks are going to be on prescribed routes continuously for a period of 12 months. They're going to see what's going to happen. And hopefully they're going to expand out from there. Mark, what happened with that electric truck manufacturer yesterday is it Nicola? I can't remember the name of who these guys were.
Mark Fairhurst:
Yeah. That's right. I think it was GM had a deal to either co build trucks.
Sylvain Perrier:
Yep.
Mark Fairhurst:
You're right. I think the company is called Nicola. Like Nicola Tesla.
Sylvain Perrier:
Tesla.
Mark Fairhurst:
Yeah. Like the guy. I wonder if he's got any descendants who can claim some copyright infringement on family name.
Sylvain Perrier:
Well, we wouldn't know about copyright infringements.
Mark Fairhurst:
That's not true.
Sylvain Perrier:
But in any case, I want to talk about Kroger. I mean, they announced their 10th CFC along with Ocado, which is a big investment, 200,000 square feet. It's going to cost them in the millions of dollars. I don't think it's as big as what Sobey's invested in their 350,000 square foot facility here in Vaughan, Ontario, but it's the 10th one for Kroger in partnership with Ocado. The really interesting part here is their first CFC is going to be opening up in 2021 in the Ohio market. I think it's going to be a really strong cutting edge for Kroger in being able to do this in trying to service e-commerce profitably. Now they're also going to be leveraging from the folks over at Ocado MFC technology, as well as some sort of in store click and collect fulfillment solution.
Mark Fairhurst:
Right. Well, yeah. We had talked about this. Ocado had made, I think investments in at least two software companies recently that were focused on automating the in store curbside pickup experience.
Sylvain Perrier:
Right. Yeah. Well, they continue to build out their IP portfolio, which quite frankly, in this day and age makes sense. I mean, if you were around in the tech space, in the '90s and in the early 2000's, I mean, if you lived through Apple, Nortel, Blackberry, I mean, the list goes on, and some of the memory chip manufacturers, I mean, it was all about amassing this war chest of intellectual property. And again, remember we talked about this in a previous show, it was really about using it as a sword and a shield to go out and enforce your rights as an IP owner and as well as use it as a defensive play. And this IP has a shelf life, quite frankly. So if you're not using it in any way that's a material benefit to you, why do you have it?
Sylvain Perrier:
Now, I think there was an announcement not long ago that Blackberry is actually looking to sell quite a bit of its intellectual property. But yeah. Yeah, absolutely. Anyways, it's not a telecom show, but any case it's Digital Grocer.
Mark Fairhurst:
It could very well turn into one.
Sylvain Perrier:
It can go anywhere these days. Our friends over at DoorDash, their IPO, it is imminent.
Mark Fairhurst:
Yeah.
Sylvain Perrier:
So very exciting.
Mark Fairhurst:
Yeah. I think theirs and Airbnb are the ones that everyone's keeping an eye out for.
Sylvain Perrier:
Yeah. And the challenge now is the Canadian Government announced yesterday, a so-called digital tax, which will have an impact on Airbnb, on the properties that are being rented out in the Canadian market. So stay tuned on that. We're not sure could this materially impact the IPO in terms of its valuation? I doubt it. I'm sure Canada is just a blip in the world of Airbnb.
Sylvain Perrier:
But anyways, DoorDash, their IPO is eminent. They're offering 33 million class A shares, common A shares, which is going to be really cool. Share price speculations between $75 to $85. Probably the total IPO will be between 2.4, 2.5 billion to maybe higher. We're not entirely sure. I think what they've done, and correct me if I'm wrong. I mean, they're basically taking the concept of last mile delivery and really commoditizing it extremely quick.
Mark Fairhurst:
Yeah. Yeah. And I think they're under the gun too. I think the pandemic and online ordering and home delivery has really accelerated a lot of the revenue that they're seeing. And as much as everybody wants to get the vaccine and have it distributed, I think it will also have an impact on these companies that have done well as a result of the pandemic.
Sylvain Perrier:
Yeah, absolutely. Before we bring in our guest and start talking about it, we just wrapped up, well, we didn't, but our friends in the US just wrapped up Thanksgiving.
Mark Fairhurst:
Yeah.
Sylvain Perrier:
Very different Thanksgiving, obviously, because of COVID-19 and so on. But in some markets, Thanksgiving may have been without a turkey. And did you hear about this story, Mark?
Mark Fairhurst:
No, not until you put it in the show notes.
Sylvain Perrier:
No? Okay, so you didn't hear it.
Mark Fairhurst:
So enlighten me.
Sylvain Perrier:
Yeah, sure. I'd love to. So on the week prior to Thanksgiving, right, because today we're on Tuesday, December 1st, we're recording the show. It should be released in the next 48 hours. And so, not last Wednesday, the Wednesday prior, I get a panic text message and a phone call from a client in Texas. And it turns out that her request was, "Hey, we really need your help. We're about to delist turkeys for sale online in all of our banners."
Mark Fairhurst:
Just before the holidays?
Sylvain Perrier:
Just before the holiday. And I'm like, this is odd. We've seen cases where turkeys are being delivered to the store and the refrigeration truck is broken and the truck driver doesn't know, and the turkeys are rotted in the back and so on, and so on. And in this case here, she goes, "No, no, no, no, this is a problem for us. We need to delist it." I said, "You can do that. That's very easy to do in our technology." And she goes, "I also need your help in emailing all the customers that have pre-bought turkeys and letting them know we can't fulfill the orders." I say, "Okay. But what happened?" She goes, "Well, unfortunately the plant outside of Tyler, Texas blew up and killed 80,000 to 85,000 turkeys."
Mark Fairhurst:
Oh geez. Are you serious?
Sylvain Perrier:
I'm very serious. She's telling me this and I'm like, there's no way this happened. How does this happen in today's modern day? Sure enough, I have to bring up the website and I'm looking at this. And yeah, absolutely. There was a fire, a gas leak, something had blew up. Yeah. It was crazy. Crazy. Anyways, I figured I'd share that with people that there can be disruptions to the supply chain that's not related. Right. Not related to the pandemic. It could be something completely different.
Mark Fairhurst:
It's a great example of a retailer having to quickly respond.
Sylvain Perrier:
Yeah, absolutely. So the one thing that we do on Digital Grocer, Mark and I don't necessarily pick our subject matter as being just pie in the sky and let's just get on the mics here and the camera and just talk and throw a show out there. It's really about educating the masses. And so the one thing that we do is we consume a lot of media. We consume media and content. Some of our sources can be conversations with the analyst at Forrester, some of the senior analysts over at Gartner. Obviously we maintain relationships with a lot of research houses, as of late Incisiv, as well as Brick Meets Click. And we've had people from both of those firms on our shows. And it's a way for us to…
Sylvain Perrier:
We're lifelong learners, both Mark and I. So it enables us to make sure that what we're presenting to our clients and our prospects and our audience in general is extremely factual. And if we don't know, we'll be the first to say, "We don't know," but we'll also like to point to say, "Hey, I think you should call so-and-so because they'll be able to help you out." And part of that, it's not just spending time with those individuals, but it's also consuming and writing content. And when you're finding a position where you're able to write content and people are genuinely interested in reading that, it's a great way to force you to be better.
Sylvain Perrier:
And we read, so we've had multiple authors on this show and one of them that crept up in a series of conversations with some analysts and just from scouring the amazon.com or .ca, that is at Popo here in Canada, one of the books that came up on Mark's radar and Mark's like, "Hey, you got to get this book. We got to read it." The title of the book is The Secret Life of Groceries. And I'm just holding this up for the camera here. And it's written by a gentleman by the name of Benjamin Lorr. And this book is, I'll never give it justice in terms of summarizing it, but for me, it is tackling a series of subjects that are almost taboo in the industry that we won't talk.
Sylvain Perrier:
And I've been in retail technology for 25 years now from banking to apparel, to working in a research house and to Mercatus doing e-commerce and in-store technology, just a bunch of stuff. There's stuff that we won't talk about. We won't talk about trade dollars and how some retailers live and die by trade dollars. And if they weren't getting them from the CPGs, they wouldn't be able to make ends meet. And I can tell you a story being at one of the East Coast's largest retailers in the office of the CMO and a VP of Category jumping in and screaming, not thinking I was an employee saying, "I can't believe this media company's coming in here, they're going to erode our trade dollars. I'm not going to be able to make my quarter numbers by my bonus," blah, blah, blah. And then the CMO says, "Oh, have you met Sly? He doesn't work here. He's not an employee. He's a vendor." And you start to find out about these things and this book tackles these elements, because it does shape the way we consume. We don't look at food anymore, essentially, we'll look at product.
Sylvain Perrier:
So joining us today to talk about his book is the author himself Benjamin Lorr. And for those of you who don't know him, he's not only the author of The Secret Life of Groceries. He's also wrote a book called Hell-Bent. It's a critically exploration of the, I'm going to botch this here, Bikram Yoga community that first detailed patterns of abuse and sexual misconduct by its guru. And I think there was a, I don't want to say Netflix or Prime TV special on this, but it was riveting. My wife, actually, when I told her I was reading Benjamin's book, she's like, "You got to go watch," da-da-da-da, this. And when we watched a bit of it. It's great. He's a graduate of the Montgomery County Public School and Columbia University. He lives in New York. Benjamin, I want to welcome you to Digital Grocer.
Benjamin Lorr:
Hey. Thanks so much for having me. Excited to be here and listen to you guys talk.
Sylvain Perrier:
Awesome. So like I said when I was introducing you, your book explores these dark areas of the grocery retail industry that are not… you don't talk to the people about this at trade shows or when I met clients offices or meetings. I want to know what compelled you to write this book.
Benjamin Lorr:
Yeah. Well, I came in as an outsider. I just love grocery stores. I think you guys are maybe so far in the industry that I have this childlike fascination with them from when I go on trips to other countries, I'll just choose to smooze around the grocery store in Paris or Tokyo or Nairobi. And they've always been this place that occupies a unique place in my brain. It's a surreal quality to them, the amount of abundance and choice and all the items on the shelves and all their colors kind of blaring out at you that is both soothing, and I actually get relaxed just walking down those waxed floors of the grocery store, but also powerful. There's a real intensity to these places.
Benjamin Lorr:
And they've always had this kind of hallucinogenic, surreal quality, and I just wanted to scratch the surface and like what makes them tick? Because my experience was entirely consumer facing. And so, yeah, I thought this will be a fascinating world to get into. And it was connected in my mind to the Bikram world, which was its own subculture. And I thought by drilling into a specific supermarket chain, I could understand some of the reasons why we buy things in the same way that I could understand the phenomenon of yoga by exploring the Bikram yoga community.
Sylvain Perrier:
Yeah. You spend time in grocery… Now I've never achieved that level of taking every Friday off and touring grocery stores like some of our clients do because that's… Operations guys, that's what they like to do. That's how they know things are working and not working and connecting. But it's true. And if you go, I remember visiting grocery stores in Malaysia when I was working in the southeast part of the country and it's just, there's something innately fascinating on how the whole aspect of food and product gets to the shelf and what happens in the back. Now your book-
Benjamin Lorr:
Yeah, I think it's just outrageous. And I mean outrageous in a good sense. It's this thing that has never existed in the human imagine… You put a caveman in a grocery store and they'd lose their mind because it's so incredible what's being offered there. And the subtitle of the book is this dark miracle, because I think is a living miracle that people take for granted. COVID has definitely done a lot of the work that I was trying to do in this book for me in that it's really ripped… it pushed the grocery store to the forefront and people saw it as this essential link in their lives and even started simplifying their purchases when the supply chain started to flicker maybe slightly and realized how much they had been taking for granted, the choice prior to that. But I don't know, to me, it's just this outrageous surreal thing that doesn't even make sense that we would be deserving of this abundance.
Sylvain Perrier:
Now, when you wrote this book, I mean, your interviews are spot on. You're going deep, it's not superficial. Not only you're tapping into the subject matter of what you're trying to tease out of these people you're spending time with, I mean, God sakes, you got into an 18 Wheeler to go deliver a load of food to an Aldi distribution center and so on. I mean, you traveled the world for this. What was that one thing in all these interviews that just hit you and you were like, "Oh crap."
Benjamin Lorr:
Yeah. Well, there were a lot of moments like that. So yes, as you know from reading the book, but people listening might not know, I specialize in kind of like immersion journalism where I'm really putting myself into places. So for the Bikram book, I did a lot of yoga and may not need to do much yoga again for a long time. And for this book, I traveled around with truckers, I broke into factory farms with activists, I tried to shadow people on their rounds as they did certification or followed brokers and work… I got a job at a Whole Foods at a fish counter and went overseas to Thailand to the bottom of the seafood chain, a lot of moments where I was like, "Oh my God."
Benjamin Lorr:
And I guess I could answer the question by giving the most crazy anecdote, but I came away with, because I'm an outsider, I guess I came away with these two ideas. One was just how focused the whole industry, especially the store level is on serving consumers. Which I think bucked the narrative in my brain that I went into the book with, which was okay, there's this critique of food that there are these greedy multinational corporations that are kind of profit driven to the extent that they are willing to sacrifice quality and we're kind of at their mercy. And that just wasn't the case on the store level where there's so much competition between stores and everyone was just focused, hyper focused on service to the consumer. And that big takeaway.
Benjamin Lorr:
As well as the flip side to that, which was just how secretive the industry is. And I think most people don't have a good sense of this because it's like grocery stores, it's so banal, it's so boring. Why would it be a top secret industry? But when the margins are so low and trade secrets are so real, you get people who are really phobic about talking about their industry. And it results in a place where bad things are hidden, and there are legitimate bad things in this book that I get into, but good things are hidden. And I left the book convinced that most of the people in the grocery world were working really hard to give consumers food in a manner that was ethical and dignified and allowed them to survive their competition. But getting them to talk about that and documenting it in the book was extremely difficult because nobody wanted to talk about anything.
Sylvain Perrier:
Yeah, I can relate to that. I mean, Mark and I have given lectures where it'll be very, very much a room of 50, 60 people, and it's open and it's transparent because you have some regional retailers that don't compete. But the moment they spot someone that comes in from Walmart, no one wants to talk anymore. And the dynamics change. I've also heard stories of some retailers breaking into stores that are in the middle of construction just to steal or take pictures of the blueprints. I mean, it's just ridiculous.
Benjamin Lorr:
Doesn't surprise me at all. I mean, I spoke to consultants. I mean, sure you guys know all of this, so it feels silly, but I was blown away with talking to these consultants who would do single blind consultancies where they weren't told about the product that they were consulting, the name of the product they were [inaudible 00:27:49] company that was hiring them to give them advice about their product was too scared that they would then take some of those details and share it with another client down the line. I used to work as a consultant, didn't like that level of secrecy. Just didn't compute to me. You're inhibiting me from even doing my job that you're hiring me for, so yeah, that really-
Sylvain Perrier:
That's crazy. Now, in the later part of the book, you make a comparison to your first book on how the more a human devotes themselves to the practice of yoga, right, they become more capable humans. So the more they do it, they become way better. At some point you said it feels eerily similar with everyone bending on both knees for the God of convenience and efficiency. Then you go on to write, "When you make convenience itself an end point, what then?" Now, did you ever answer that question?
Benjamin Lorr:
Yeah. This is a core part of a book and it really gets at… I think that anyone who looks at the grocery industry for even half a moment sees how much energy is going into making things convenient and efficient. And it is this overriding demand that has ripple effects all throughout the chain. A lot of the most negative consequences that I came around up to totally exploited labor. And if you read the book, it includes actual human bondage, but it also includes just people living with very undignified lives because they don't have the money to do that.
Benjamin Lorr:
But it's all driven by an incentivized system where the people… there's no real bad actors, people who are evil and cackling at these things, they're working so hard to get an edge in their own niche that these are ripple effects off of it. So that driver convenience is so important. And I guess that question of what happens when you make convenience an end point is not something that's an industry facing question. It's a consumer facing question. I think it's like a crisis, almost like a civilization level crisis of we have this giant gaping cultural wound of meaning. What are we doing with all the time we're saving bettering our lives? And what does it even mean to better our lives anymore? I think the grocery store just happens to be a focal point where this question shows up in fruits. And I guess it was something I became really fascinated in because I spent a bunch of time in the book trying to understand why people buy things. And I was speaking to people in PR and branding and retail architects, and I kind of came back to this idea that the anthropologist Grant McCracken came up with, which is that material goods provide a bridge to meaning. And not just any type of meaning, but when you buy something, you're trying to reach for what he would call a displaced ideal.
Benjamin Lorr:
And a displaced ideal is something that's extremely important to how you manifest your life and how you're expressing yourself, but something that doesn't quite stand up to every day. You don't live it out every day, that's why it's an ideal. And because it's so important to you, but not part of your everyday, you put it out of reach into an object or maybe a hero, something that allows the ideal to live on without having to be subject to the disappointment of reality. So I think [that's the root 00:01:39] of why people are buying things in general.
Benjamin Lorr:
And I guess writ large, it just seems like our choices are saying the biggest displaced ideal we're searching for these days is convenience, this ideal of… which is never intended as an end point. Convenience is a means to an end. You make things convenient and efficient so you can then go on and do what? And it seems like we've lost that what, and it shows up in the grocery supply chain, it shows up in a lot of different areas of life. But grocery particular pays a price for that, I guess, because it's so oriented around convenience. And yeah, to answer your question, I don't give a good answer to that. I just note that it's driving a lot of really bad things and it would be helpful if we thought about the problem in those terms.
Sylvain Perrier:
Yeah, no, well said.
Mark Fairhurst:
Yeah, no, I think that's fascinating from the perspective… and Sylvain and I see this all the time, how much convenience is enough? Amazon's built Prime on the basis of convenience and you can see this brinkmanship when it comes to between Walmart and Amazon, get it in two hours, get it in one hour, get it in 30 minutes. Yeah, so to your point, how fast is fast enough?
Sylvain Perrier:
And so in all your journeys going through this, did e-commerce ever come up in some of your research or what you're seeing happening with Walmart and Amazon?
Benjamin Lorr:
Sure. I didn't focus on e-commerce somewhat intentionally. And in many ways I feel like I wrote the secret life of groceries up until 2015. That is a momentous shift in the industry that deserves an entire book of its own. And I recognized that while I was writing it, it was kind of like a conscious decision that I was like, oh, I could write 50 pages on this and it would take another six months of research, or I can just ignore it. And ignore is the wrong word, but I did speak to a lot of people about these shifts. Is there a specific question on that, or just like, e-commerce? I guess it's like here today-
Sylvain Perrier:
No specific questions. Just a general question.
Benjamin Lorr:
Yeah. I guess one of the things I think about with it is how stores are going to be transferring the in-store experience to the online platform in a way especially that caters to the younger non-list shoppers. So it's like youngsters don't go and shop with lists anymore. There's this very associative process of going to the store and planning your meal by looking at things and being inspired and building it up as you go. Maybe you're shopping three days a week, four days a week, and that's more and more common. And that experience doesn't seem like it lends itself to the current models of e-commerce very well, which are also meant for listed shoppers. You just click down your list and you buy your things and you stock up.
Benjamin Lorr:
So I think how e-commerce platforms on the front end manage to spark people's imagination and get them to think in that associative manner, whether that's supplying them with different meal plans and kind of bringing in some of this Blue Apron style energy of curating options. That strikes me as something that came up a couple of times as a piece of the puzzle I haven't seen anyone conquer. It's like you talked about DoorDash in the beginning as commodifying the last mile and I think that's brilliant, but there's a hurdle. Commodifying the last mile only matters if people have made up their minds about what they want that last mile to entail. I don't know. There's something where it's like DoorDash is not going to tell you what to buy.
Sylvain Perrier:
Right, right.
Benjamin Lorr:
[crosstalk 00:36:04] shopping the way most young consumers are shopping. And I think that's a problem. It's an opportunity for people.
Sylvain Perrier:
Benjamin. It's been amazing having you on our show today. So how do people get ahold of you if they want to reach out?
Benjamin Lorr:
Twitter, Facebook, and I got a website out there. Book is on Amazon, the leader in all things convenience.
Sylvain Perrier:
Perfect. Awesome. And Mark, how do people get ahold of us?
Mark Fairhurst:
Yeah. Go to digitalgrocer.com and feel free to comment, submit some story ideas. We'd love to entertain them.
Sylvain Perrier:
Perfect. Ladies and gentlemen, it's been perfect today. It's beautiful outside, nice and snowy, and hopefully you'll stay tuned, download our next episode. Peace.
Show full transcript...