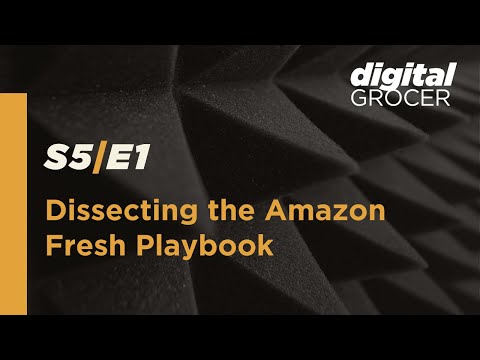 <iframe width="560" height="315" src="https://www.youtube.com/embed/gPXySob5CkU" title="YouTube video player" frameborder="0" allow="accelerometer; autoplay; clipboard-write; encrypted-media; gyroscope; picture-in-picture" allowfullscreen></iframe>
Dissecting the Amazon Fresh Playbook | Digital Grocer S5E1
Sylvain Perrier and Mark Fairhurst are back for Season 5 of Digital Grocer! In Episode 1, David Bishop joins them as they all become secret shoppers and explore how Amazon Fresh uses convenience as a key selling point. While reviewing several store experiences, the team examines the grab-and go technology and how Amazon prices its products in-store versus online. Lastly, the they talk in depth about the Amazon Fresh strategy to build up their grocery retail business by looking into what makes them stand-out against traditional food industry players. Don't miss all of this and more in this first episode of the Digital Grocer podcast new season. Watch or listen to the episode below.
David Bishop
David Bishop
David Bishop, Partner, Brick Meets Click
David Bishop leads Brick Meets Click's consumer research, retailer benchmarking, and market forecasting programs while also working closely with grocers to improve results flowing from their omnichannel strategies.
Full Transcript
Mark (00;00;00;06 – 00;00;01;06)
Okay. Go ahead.
David (00;00;01;11 – 00;00;02;00)
What?
Mark (00;00;02;09 – 00;00;03;08) 
Start your rant.
David (00;00;03;08 – 00;00;07;15)
No, I'm not going to rant that's very unprofessional .
Sylvain (00;00;07;15 – 00;00;26;27)
Welcome, everyone, to Digital Grocer. Season five Episode one. It is great to be here. I'm your host. Sylvain Perrier I'm working from home today. I think it's Friday today. And joining me is from his basement again. Mark Fairhust. Mark, how are you?
Mark (00;00;38;20 – 00;00;49;27)
I am doing well. I'm doing well. It was good to be out and aired somewhat, but now I'm in the confines of my comfort place.
Sylvain (00;00;49;27 – 00;00;53;03)
Sometimes I feel like an old problem. You got to be aired once in a while.
Mark (00;00;53;03 – 00;00;54;04)
That's what I thought
Sylvain (00;00;54;04 – 00;01;03;04)
for a good wash. But listen, we had an amazing trip recently that we got back from.
Sylvain (00;01;03;06 – 00;01;11;20)
We went to Chicago We drove over Minneapolis, and we came back in and we met up with David Bishop from Brick meets click .
Mark (00;01;11;20 – 00;01;12;13)
Correct.
00;01;12;13 – 00;01;26;15
Sylvain
And we have, which was pretty cool. David took us around Chicago to visit some stores, particularly one of the one, actually, two of the stories that I really wanted us to visit was the Amazon stores .
Mark (00;01;26;15 – 00;01;32;00)
Mm hmm. Yeah, it was it was it was an eye opener because we don't have those stores in Canada.
Sylvain (00;01;33;21 – 00;01;34;13)
Right.
00;01;34;13 – 00;01;38;24
Mark
So it was the first time I went into one. Into one.
00;01;38;24 – 00;01;56;09
Sylvain
Yeah. It was what was kind of interesting. The stores were actually very clear that Amazon is using these stores to sell groceries, but really to fundamentally test some of the new technology, their work they're working on. You know, one of the locations had the smart card the other location didn't have the smart card.
00;01;56;20 – 00;02;35;05
Sylvain
You could self scan to come in and even how the merchandise and how they store their alcohol is different from what we experience here. And so this episode is really fundamentally about, you know, walking through the experience David, commenting on some of the findings. And I'm excited to share this with our listeners because it kind of gives a preview of what it's like from when a researcher walks in and looks at a store different from the eyes of a retailer that may be responsible for operations marketing and merchandizing.
00;02;35;23 – 00;02;53;17
Sylvain
And certainly from our contacts between buyer, we're looking at a customer experience, perspective, technology perspective. So the video is interesting with
00;02;53;17 – 00;03;15;27
David
and we'll do the same thing. It's now $ 14.29 for a total of 16. If we were at home and we did this, what would we pay, and we have a range of results. The free one for Prime is saying that we can get that for $11 free delivery on Saturday.
00;03;17;11 – 00;03;31;00
David
So here's an example where it actually pays to shop online because we would see three and a half dollars. Yeah. So really interesting kind of pricing dynamic there and
00;03;31;00 – 00;03;46;16
Mark
As I said, it was the first time I'd been in an Amazon Fresh store, but this store had basically the dash cart, which we've all seen pictures of with the cameras and the weighted element or the weight scale in it.
00;03;48;14 – 00;04;15;23
Mark
So David and I grabbed the cart, linked it to his, his Amazon prime account, and we just started going up and down the aisles putting our merchandise in the cart. And in some instances, you'll see some shenanigans in the center. We tried to fool the cart. It's I have to admit, it's really clever and we tried all sorts of angles to try and hide the product going in, or at least the UPC barcode.
00;04;16;03 – 00;04;21;20
Mark
So it's got to be picking up something other than just the barcode it's it's the size of the packaging itself.
00;04;21;20 – 00;04;50;19
Sylvain
Yeah. Yeah. And this was what was interesting, that this cart is we actually found out at some point during our trip Amazon is actually going to be discontinuing the use of these carts. And I find that interesting that we know that if Instacart is a massive investment, $350 million dollars into cater these carts to be used at Kroger and Mercatus roots is actually designing these types of carts.
00;04;50;28 – 00;04;58;01
Sylvain
So I'm not surprised that Amazon made the decision to kind of discontinue those carts
00;04;58;01 – 00;05;12;01
David
although strangely it doesn't work 100% of the time. As we know, some items made in some of those bottles made it into our cart without being picked up by the actual system .
00;05;12;01 – 00;05;12;10
Mark
Yeah.
00;05;12;10 – 00;05;17;00
David
So there is some shrink or loss associated with that issue.
00;05;17;22 – 00;05;44;04
David
In this case that could be a significant amount. I think when you look at some of the pricing in the store, we looked at things like batteries and we found some interesting things. There's not really a clear pattern, but in the case of their private label, Amazon Basics, we could find a 20 pack, a triple-A is where we would save $4.50, find it in the store versus online and waiting until Saturday to get it even with free delivery.
00;05;44;16 – 00;06;10;22
Sylvain
But the national brand actually is more expensive in the store than online. So there's really not a real rhyme or reason there. Part of it, you would think would be to reinforce the value of shopping online or in-store And in some cases, I guess with the first party or the private label, they may be taking that price action as a way to reduce their shipping costs by motivating or rewarding those people buying in-store as opposed to a partnership.
00;06;10;28 – 00;06;32;18
David
So we think there's a few things there. There's a few more people shopping with carts, but as we learned from this store, which is the oldest in the Chicago market, that they just kind of finished up a promotional wave where they were encouraging peope to use carts and we clearly saw that. And in the store it was probably twice as much usage as we would typically see in other stores.
00;06;32;18 – 00;06;38;10
David
So clearly that's having some effect. The question is, you know, how sticky that is is something we'll find out over time.
00;06;38;10 – 00;06;57;24
Mark
Yeah. So some of what I did take away that I had was very few. And you hit on this before, very few shoppers A lot of people, a lot of pickers going up and down the aisles. Very friendly, very friendly, absolutely modest amount of pick up orders, staging.
00;06;58;18 – 00;07;19;27
David
And yeah. And as I said, unless you're disappointed because you can't find your preferred brand or your favorite item most people would look at the assortment and say as well as sort of even though these stores generally carry under 13,000 SKUs, which is, you know, considerably lower than the conventional grocers in this market, that would have somewhere close to 30,000.
00;07;20;11 – 00;07;36;10
David
So they do a good job with their private label products across the departments Those regional favorites, like the Duke Mayonnaise we highlighted again, really is a unique offering in the Chicagoland market. And, you know, you get a general sense that you can get everything you want there.
00;07;36;10 – 00;07;36;18
Mark
Yeah.
00;07;36;18 – 00;07;40;22
David
Assuming that your favorites that you expect to find in the store,
00;07;40;22 – 00;07;52;10
Mark
and their baked goods there, preps section not not busy at all but again it's both for 4:34 p.m. right.
00;07;52;10 – 00;08;20;14
David
But as you saw at the meat counter, if we wanted a special cut of meat that they don't like, we could do that because again, like Walmart, Amazon Fresh stores currently don't have a saw in the meat department to do any custom cuts. So that's a point of differentiation that conventional grocers need to remember because after all, that's something that they offer that you can only get from them because Amazon Fresh has elected or decided that that's not important for their business.
00;08;22;06 – 00;08;28;13
Mark
And from my my eyes, a modest as produce section.
00;08;28;13 – 00;08;48;21
David
Yeah, nothing spectacular. But again, if you look at the competition to say who are they looking for in some ways compared to what Target has done, that's a very modest produce section, maybe not as expansive as Walmart, but again, they're not really going head to head with either one of them. And that's clear when you look at their pricing.
00;08;48;26 – 00;08;58;00
David
They're in fact going after the conventional grocers, customers in this market. That would be a Mariano's order or [inaudible]
00;08;58;00 – 00;09;09;02
Mark
The next store. We went to a brand new version of Amazon Fresh. Sylvain then you were fortunate enough to join us this time. What did you notice as soon as we went in the door.
00;09;09;02 – 00;09;20;11
Sylvain
This store, It's a smaller footprint, but expansive in terms of the way merchandise typically walk into a standard vestibule and you grab your cart because this is not the case here.
00;09;21;05 – 00;09;52;17
Sylvain
Now, we were greeted right away david took his phone, loaded up, his prime account scanned, and we were allowed in, no smart cart at this point. And so this is where we found out that this has been discontinued. And then went into the store. We were each given for that trip, a $10 coupon that we could use immediately.So some heavy, heavy discounting that's happening at this specific location.
00;09;53;05 – 00;09;58;26
Sylvain
The one thing that was very interesting is the quality of their food prep station.
00;09;58;26 – 00;10;11;06
David
Here's going to be the cheat. You're going to see a really nice food buffet that is taken from Whole Foods and very little cross shop.
00;10;11;06 – 00;10;25;17
Sylvain
and the pricing is extremely reasonable. So that was amazing. People, the staff weren't terribly busy and extremely , they were extremely friendly, very well-trained.
00;10;25;17 – 00;10;45;22
Sylvain
I mean, I'm sure that probably changes in the case we're reviewing in a location where you have a lot of the traffic and the I don't know if this is because of the liquor laws in Illinois or just the way Amazon actually did do it. They had a person dedicated to the alcohol area, which is, you know, it's limited only.
00;10;47;07 – 00;10;58;06
Sylvain
So you have to present your ID to gain and then you go in and spear well, merchandise and so on. So we're able to kind of kind of bars and buy some wine and so on and try some different things.
00;10;58;06 – 00;11;07;27
David
What they weren't doing that before. Yeah, still a misnomer, Mark. It was a self-contained environment in there as a little smaller.
00;11;08;20 – 00;11;24;20
David
It was cold in the store. We did have to show the ID to go in, although we didn't have to show an ID when we walked out of the store. So maybe the reason they do that is to facilitate a quicker egress from the store. Yeah, which is fine.
00;11;24;20 – 00;11;33;07
Sylvain
We tried to cheat the camera system, so if we take an item off the shelf and then return it to other area in the store to see if it would be discounted.
00;11;33;27 – 00;11;35;19
Sylvain
so David will talk about that in the video
00;11;36;04 – 00;11;36;28
David
Well
00;11;37;05 – 00;11;38;09
Mark
putting a product back on the shelf
00;11;38;09 – 00;11;52;28
David
Well, yeah, we're going to find out. We have to wait. They said it's going to be between 45 minutes and an hour to get our receipts. We'll find out what we did intentionally take something off the shelf, put it in our cart, and then lazily put it back somewhere else randomly.
00;11;52;28 – 00;12;10;10
David
And so what we learned was that if we were to do that, that system would charge, which is kind of crazy, that the lady we were talking to did talk about how she did encounter some customers, came back in the store to complain about being charged or something they put back.
00;12;10;10 – 00;12;20;18
Sylvain
Mind, this was my first experience at actually seeing fresh produce and vegetables sold by the each inside of the store.
00;12;20;19 – 00;12;22;07
Sylvain
I Mark, have you ever seen that?
00;12;22;07 – 00;12;26;10
Mark
No, no, no. It was it was a novelty for us for sure.
00;12;27;04 – 00;12;27;18
Mark
So
00;12;27;18 – 00;12;48;01
David
yeah, so interestingly. Well, couple things along and like the produce now is all fixed way price or not not fixed rate. They're all fixed price. So instead of buying an apple on a price per pound basis, you're paying the price based on a standardized way, which has some variability.
00;12;48;01 – 00;13;14;07
David
So that that's good of gets take some time to get used to because frankly I'm not accustomed to buying apples by the each that's a pricing. But the other thing we did see in the prepared food section was that they had made the shift to a price per container as opposed to a price per pound when you were kind of filling up your your hot or cold bar with whatever accouterments you wanted.
00;13;15;00 – 00;13;47;20
Sylvain
Yeah. And despite surprisingly Amazon, the two stores we visited and this was specifically we didn't see we saw traditional gaps in the supply chain around paper products. But some of the other items like fresh and meat and dairy, we did not see any issues around the supply chain. And then we went through the checkout process fairly, fairly painless in the sense that we know you don't have to go through like a traditional counter very much.
00;13;47;20 – 00;14;11;26
Sylvain
Again, streamline, you scan your your QR code on your cart on the way out, and you'll see that in the video you leave and then you enter the bagging station at the end bagging as they were shopping. I suspect you could bring your your own bags where you would go through. Certainly an audit process on the way out,
00;14;12;15 – 00;14;15;25
Mark
which which we learned is not foolproof
00;14;15;25 – 00;14;17;18
Sylvain
and it's not foolproof.
00;14;18;09 – 00;14;42;03
Sylvain
And it also and this is in a store that's not busy. And what was, you know, in the first hour we visited and I want to call this out to people, you'll see that we ended up getting two additional bottles of wine. And on the second store on the way out, we saw someone forget a 12 pack of Diet Coke.
00;14;42;13 – 00;14;43;04
Mark
Yeah
00;14;43;11 – 00;14;50;17
Sylvain
And and and I got to imagine they're auditing on the way out of there talking to people. So it shouldn't be an issue.
00;14;51;15 – 00;14;53;15
Mark
Oh, it must be, at least in that instance.
00;14;53;17 – 00;15;01;01
Sylvain
Yes, I think yeah, absolutely. And could you imagine it when the store is really busy how are they dealing with shrink?
00;15;01;01 – 00;15;03;27
Mark
Yeah. So here you go, folks. Here's the clip.
00;15;03;27 – 00;15;10;29
David
Another interesting example of how shopping in a fresh store could be different from experiences standpoint.
00;15;10;29 – 00;15;14;09
Mark
Awesome. All right. Well, thanks, David.
00;15;14;09 – 00;15;32;16
Mark
We've got more great episodes on digitalgrocer.com, and we'd love to connect with you my social media at Digital Grocer on Facebook, Instagram and LinkedIn and at digital underscore grocer on Twitter, like subscribe and click that bell Icon. So you never miss another Digital Grocer podcast.
00;15;32;16 – 00;15;33;21
Mark
Shit I didn't record that?
00;15;33;23 – 00;15;34;09
David
You did.
00;15;34;11 – 00;15;36;11
Mark
I didn't. You want me do it again.
00;15;36;11 – 00;15;41;22
David
That's my guy what? Like put on like I'm a tech guy flag it.
Show full transcript...