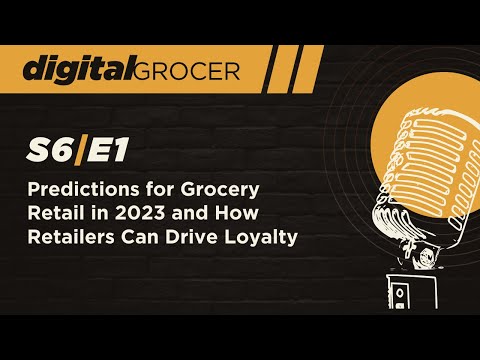 <iframe width="560" height="315" src="https://www.youtube.com/embed/zn0aqH5gSEw" title="YouTube video player" frameborder="0" allow="accelerometer; autoplay; clipboard-write; encrypted-media; gyroscope; picture-in-picture; web-share" allowfullscreen></iframe>
Predictions for Grocery Retail in 2023 and How Retailers Can Drive Loyalty I Digital Grocer S6E1
Digital Grocer hosts Sylvain Perrier and Mark Fairhurst are back for season 6! In episode 1, the duo discusses the latest research findings from Mercatus' grocery eCommerce forecast, published in partnership with Brick Meets Click. They reveal how the grocery eCommerce forecast will impact grocery retailers' ability to retain customer loyalty.
Later on, Joel Percy, Regional Director at Eagle Eye joins the duo to dive deep into grocery retail loyalty. Throughout the episode they discuss how retailers can bring value to their customers through Eagle Eye's promotional platform, personalizing the customer experience to meet modern shoppers' expectations, and the factors that retailers should consider when looking for a promotional platform.
Watch or listen to the episode now!
Joel Percy
Joel Percy
Joel Percy, Regional Director, Eagle Eye
Joel Percy is an experienced Loyalty and CRM executive with deep expertise in retail personalization and data monetization. He is currently Regional Director at Eagle Eye, where he helps clients grow loyalty and drive sales by building digital connections with their customers. Previously Joel was at Loblaw Companies in Canada, where he helped design and launch PC Plus, one of the world's first fully personalized digital rewards programs. He has also consulted with retailers around the globe on the design of personalized loyalty and marketing programs.
Full Transcript
00:00:04:17 – 00:00:24:07
Sylvain
Ladies and gentlemen, welcome to Digital Grocer Season 6 Episode one. I'm Sylvain Perrier, your host. And joining me today, as always, from the comfort of his basement office or the bunker, as I like to call it, is Mark Fairhurst.
00:00:24:07 – 00:00:37:09
Mark
It's great to see you. Great to see you Sylvain. You know, how come my background never changes? But I think this is like the third or fourth background that you've had or. I'm sorry. Yeah, I would say environment,
00:00:37:09 – 00:00:54:14
Sylvain
Environments. Yeah, I basically, I'm one of those people who just can't sit still, which in certain things. And so I decided just to kind of do a little bit of renovation and kind of change up the Home Office, which is exciting, some new equipment, a little bit more ergonomic.
00:00:54:14 – 00:01:23:06
Sylvain
And as you get older, you know, I think being comfortable is very important in any case. So we have a jam packed show. I can't believe we've made it to season six and season and season six is just going to be phenomenal. You know, one of the things that we do, we do really well at Mercatus is research, and we've partnered with a an amazing organization by the name of Brick Meets Click.
00:01:23:17 – 00:01:56:06
Sylvain
Working with David Bishop and his team and we are putting out content and working really hard to educate the market in terms of what's happening with respect to eCommerce. And about a week ago I actually went through two years of reports and data in those reports and really looked at trying to understand the economical impact on the number of households participating in eCommerce in the United States looking at the average basket size.
00:01:56:20 – 00:02:20:00
Sylvain
Looking at our revenue on a monthly basis against the rate hikes that the feds have put out. And we had a really quick shot of back to back rate hikes towards the end of summer of 2022. And what was really interesting in those results and Mark, we published these numbers in December, and what if you can remind me again, what were that?
00:02:20:00 – 00:02:23:04
Sylvain
What was the revenue published for December '22?
00:02:23:04 – 00:02:30:10
Mark
It was 9.1 billion for the month, which is about 15% up year over year.
00:02:30:10 – 00:02:43:20
Sylvain
Right. And you would think, you know, a couple of things. And I posted about this on LinkedIn, you know, was it did the rate hikes have an impact on the basket size? Did you know, are we looking just generally at seasonal variance?
00:02:43:20 – 00:02:52:07
Sylvain
And I know that we just recently published the CAGR for the five years. What was kind of that some of the high level numbers Mark, on that?
00:02:52:07 – 00:03:09:14
Mark
So CAGR's compound annual growth. We're looking at a total of about 12% over the next five years going to 2027 and increase online share will increase from 11.2 in 2022 to about 13.6 in 2027.
00:03:10:04 – 00:03:32:23
Sylvain
Yeah, And so those are interesting numbers. I mean, I had a recent conversation with Claire Fan, who's the chief economist at the Royal Bank of Canada, where, you know, she they're forecasting at the RBC that the there's going to be a mild recession in Canada, likely the same in the U.S. So very shallow in that sense. But we're going to see growth in the back half of of 2023.
00:03:33:11 – 00:03:50:18
Sylvain
I'm trying to and I know the team here, we're trying to understand what's going to be the impact January and in when I look at the last two years, January January and when it comes to eCommerce, sales is typically soft. People are out of the holidays, they're bouncing back, they're getting back in the routine. Dollars are being spent somewhere else.
00:03:51:10 – 00:04:11:16
Sylvain
The one thing that is very clear in our conversations with retailers, whether they're our clients or not, and Mark, you know, we travel a lot around the United States talking to retailers, meeting them at various events, if not just generally visiting their stores. The one thing that they are saying is they are seeing record sales, but the composition of the basket has changed.
00:04:12:07 – 00:04:43:00
Sylvain
It is less items and we are seeing kind of consumers really trading out. So going from their traditional grocer, which normally is picked because of proximity, we know that is one of the fundamental driver in the industry, how consumers pick their location, where they shop and they're going into the discounters, and this is pushing the retailers to really fundamentally rethink their loyalty programs and to really think how they are going to offer value to consumers.
00:04:43:01 – 00:05:05:14
Sylvain
And there was a recent research paper published by Supermarket News where they went out and interviewed a series of retailers, and it is top of the list. Retailers are rethinking how to really capture the consumer. What was really funny in that research piece, and I think this will make for a great future podcast is what are they doing with their private label, right?
00:05:05:14 – 00:05:33:25
Sylvain
How are they getting from national brands into private label? Now at Mercatus, we have the opportunity to work with some really great partners and one of those partners is Eagle Eye. They're based out of the U.K. and they work with Loblaws here in Canada. I will say they have one of the most flexible promotional platforms that I've seen in years that we have access to to work with.
00:05:34:13 – 00:05:57:07
Sylvain
Now, joining us today to talk about Eagle Eye, because this is all about educating our listeners is a gentleman by the name of Joel Percy, and Joel is the regional director at Eagle Eye. And he actually he brings a tremendous amount of experience to the table. He's the former director of loyalty marketing at Loblaws. And Joel, I want to say thank you so much for joining us today on Digital Grocer.
00:05:58:01 – 00:06:00:13
Joel
Thanks for having me, guys. Excited to be here.
00:06:00:13 – 00:06:00:22
Mark
Welcome.
00:06:00:22 – 00:06:12:08
Sylvain
Awesome. So tell us a little bit about, you know, help our audience understand who is Eagle Eye and how did this kind of this business start?
00:06:12:08 – 00:06:34:14
Joel
Yeah, absolutely. So Eagle Eye started in 2003 we're a UK based business, as you mentioned, and it all started actually when our founder, Steve Rothwell, who's a self-professed techie geek, thought it would be nice to be able to send a beer to a friend of his and in a pub and be able to do that digitally.
00:06:34:15 – 00:06:59:14
Joel
So the original domain that he bought was buymeabeer.com and started figuring out how to do digital vouchers and coupons in pubs in the UK. And that quickly grew into a promotion promotion platform that we have today. So growing up with sort of restaurants and pubs in the UK started to move into retail. Fast forward to 20 years later and we're around the world.
00:06:59:22 – 00:07:26:10
Joel
We are, as you said, SaaS based promotion platform and loyalty platform. We work with all kinds of retailers. The grocery really is the sweet spot and I think the other thing to say about Eagle Eye is that we are I've been with the company for a couple of years now. Every company I've ever worked for has talked a lot about culture and Eagle Eye is a place that shines in my eyes in terms of living it out.
00:07:26:10 – 00:07:51:07
Joel
So we talk about being purple as sort of the embodiment of our values, and we have this belief that you can actually be a great and effective business and still be nice guys. So we don't want to be sort of the cutthroat, backstabbing, you know, smoke and mirrors kind of guys, we just play it straight. We're upfront with clients and that has served us well.
00:07:51:07 – 00:08:05:17
Joel
And we've got, you know, a lot of great relationships and great traction around the world with that. So that's a little bit about Eagle Eye. Of course, as we go through today, we can talk more about some of the use cases and how that comes to life, but hopefully that gives you a quick intro to who we are.
00:08:06:08 – 00:08:33:05
Sylvain
Oh, absolutely. I love I love the you sharing your the culture of the business I find more often than not. And I think in our in our space, this the concept of being upfront respect and so on it's just isn't it isn't really there and I when I went by the booth at your booth at NRF in New York City early this year, you could really sense that.
00:08:33:14 – 00:08:55:16
Sylvain
And you guys all had your purple hoodies on, which I thought was just, just really cool and fun. Can you share with us I know the context. You guys work with Loblaws here in Canada. You also work with Southeastern grocers and you said something really, really interesting in the previous question, which was you guys are world wide. Can you share with the audience some of the retailers that you're working with?
00:08:56:11 – 00:09:19:00
Joel
Yeah, absolutely. So Loblaw, here in Canada, as you mentioned, where we help power the PC Optimum loyalty program across the country in the US where we're working along with Mercatus, which is a great partnership there at Southeastern Grocers, we also work with Giant Eagle in the US. I mentioned the U.K., so we work with lots of hospitality chains over there.
00:09:19:00 – 00:09:45:00
Joel
But in terms of grocery retail, we work with Sainsbury's and Asda, Asda's just launched a new loyalty program there earlier this year on Eagle Eye Platform. And then we're also experiencing some growth in APAC. So working with Woolworths in Australia. So those would be some of the sort of highlights in terms of the big enterprise grocers that we're working with around the world.
00:09:45:06 – 00:09:56:16
Joel
And then, you know, not not all of our clients are grocery. We also work with a number of, you know, general merchandise retailers, hospitality as I mentioned. So quite, quite a breadth.
00:09:56:16 – 00:10:19:11
Sylvain
Now that's great. And so that's just for you guys fuels a lot of experience in terms of what what you're doing. And if I tie it back to that research report that I cited at the top of the show that Supermarket News published, you know, you know, retailers being really focused on bringing in more value offerings to their customers.
00:10:20:14 – 00:10:26:13
Sylvain
How does Eagle Eye support a retailer kind of achieving that. Yeah, absolutely.
00:10:26:13 – 00:10:48:08
Joel
So, I mean, you're right, value is one of those sort of it comes into the news cycle in retail, you know, as the economy gets into trouble and we talk about this race to value and consumers are watching their pennies more. And, you know, I think the other part of that is that it is always the bedrock of retail, and particularly in grocery.
00:10:48:14 – 00:11:12:12
Joel
It's not like there are seasons where customers stop caring about value. Right. But certainly becomes heightened. I think if we try to describe the role Eagle Eye plays in that we sort of get up in the morning every day to try to help retailers do two, three things. We want to help them deliver an experience that's personalized, that's omnichannel, and that's real time.
00:11:13:06 – 00:11:46:15
Joel
And so that comes to life in all kinds of different ways. Talk a little bit later about some of the tools we've got in the toolbox there. But I think that, you know, a couple of use cases to pull out, talking about personalization. Retail has gone over this massive shift over the last couple of decades, really, but it's certainly accelerating with this move from most of the money that a retailer is investing in discounts and promotions and coupons being one size fits all.
00:11:46:20 – 00:12:05:04
Joel
I'm going to put it in the circular here. I'm going to put it on the shelf. I'm going to put it at the store entrance and everybody gets the same. And that's great in terms of making a big splash, driving big traffic, you know, all of that. But we all sort of know the old adage of in marketing that half of the budget is wasted.
00:12:05:05 – 00:12:18:16
Joel
Right? And so you've got millions of customers going in through those stores, picking up items that they don't know or care are on promotion and and pocketing the discount.
00:12:18:16 – 00:12:38:11
Joel
And so what personalization allows you to do kind of on the surface from the customer point of view, getting these personalized offers, whether it's loyalty, whether it's coupons, whether it getting an email with products suggested for me as a customer, you think this is great, You're tailoring it to what I need and what I like and what my family buys.
00:12:38:11 – 00:13:01:16
Joel
If you flip that lens and look at it from the retailer's perspective, and I think this is the real secret weapon of personalization, if you will, is that I now, as a retailer or a retailer, have the ability to allocate my investment differently. It doesn't have to be that every customer gets the same. If I have $1,000,000 to invest in a million customers, I don't have to give a dollar each.
00:13:02:02 – 00:13:33:09
Joel
What I can do is I can say who are the customers that I really want to strategically invest in and grow a certain segment, or they're my most loyal customers and they can get more. And then I think even more importantly is you let customers self-select. If I'm giving personalized offers to everybody, there's a group who won't bother to engage and therefore won't access the value and what that does is frees up the money to shift it over to the customers who do engage.
00:13:33:16 – 00:14:04:13
Joel
So if you take this kind of traditional model of grocery loyalty where maybe I'm investing 1% of sales, 100 basis points, and traditionally that means every customer is earning 1% back with personalization, I can have customers who really are engaging in my program, going in my app, checking their email, clipping the coupons, whatever it is, getting, you know, 5%, 8%, 10% back in their grocery earn, can't afford to do it for everyone.
00:14:04:21 – 00:14:27:09
Joel
But when I'm doing it through personalization, I have all the levers to sort of allocate it across customers. So that's one of the ways that Eagle Eye can help is giving retailers this tool to say what we talk about of a marketing budget per individual customer rather than a marketing budget for the enterprise. And then that takes all kinds of all kinds of shapes and forms.
00:14:27:09 – 00:14:46:07
Joel
I think one of the ones we're seeing more and more that people are starting to explore is this idea of personalized pricing. So not just I'm going to give you Sylvain one coupon and a different one to Mark, but I'm actually going to give you your own price on specific items that matter to you. And that's really resonating with consumers.
00:14:46:07 – 00:14:50:14
Joel
It's very early days. I think we're going to see a lot a lot more of that.
00:14:50:14 – 00:15:09:08
Sylvain
I love it because, yeah, just what you shared can really, you know, we could spend multiple episodes on those things. But this reminds me, I mean, in the day for anyone, anyone in the industry that's aware, if you remember that just for you program at Safeway.
00:15:10:05 – 00:15:11:25
Joel
Yeah, absolutely.
00:15:11:25 – 00:15:44:01
Sylvain
When you peel the onion back and you talk to those people that were there in the day, that just for you program was a ream of analysts in a room manually computing those prices for consumers and you guys have automated this so that's phenomenal. And then there was a recent post I put up on LinkedIn where I really applauded Giant Eagle for what they've done in the Pittsburgh market, and that is they made the bold move to stop mailing out their weekly circular.
00:15:44:23 – 00:16:26:25
Sylvain
And I applaud them because fundamentally you cannot generate an ROI in a paper circular. You can't say. And then you said this 50% of our marketing budget goes to goes to, you know, historically print. You can't say, did I drive additional incremental sales with that paper flier? You just don't know, moving into the digital space and getting people used to using the digital circular e or tied back to what Eagle Eye does is phenomenal for for a grocer because now only can you target your best consumer increase basket size, but you can actually measure it and that's that's awesome.
00:16:27:03 – 00:16:50:15
Sylvain
So what I'm curious is, you know, you guys have been around for for some time. You're you're worldwide. You're talking to some, you know, some amazing retailers. And, you know, in our conversations with some retailers, we're trying to get them to understand the basics of the loyalty equation, right. The cost of doing a loyalty program and so on.
00:16:51:13 – 00:16:54:15
Sylvain
So where do you see kind of loyalty going?
00:16:54:15 – 00:16:58:20
Sylvain
You know, if you were to look in that crystal ball of yours? Yeah, absolutely.
00:16:58:20 – 00:17:17:25
Joel
So I think there's lots of interesting innovation happening in this space right now. I think if I were to start with the biggest trend of what we see and think is next is you've had, you know, over the last ten years or so, lots of grocers have made a lot of investment in the ability to do personalization.
00:17:18:09 – 00:17:39:22
Joel
And usually that takes the. But you talked about just for you, I'm going to email you once a week, I'm going to give you some offers that are, you know, handpicked. They're personalized for you. You can then use them through the week and then I'm going to give you a new set the following week. And it's essentially a personalized digital version of that old weekly print circular.
00:17:39:23 – 00:18:13:02
Joel
Right. I think what we're going to see now is the explosion of personalization across all kinds of dimensions, because that would be an example of I'm personalizing the product. Everything else is one size fits all. You get it at the same time as everyone else. You get the same looking email as everyone else, get the same number of offers as everyone else, etc. And I think we're starting to see retailers say there's actually about not one lever in terms of product picking, but 10 or 15 or 20 levers that I can start to change in terms of personalizing.
00:18:13:20 – 00:18:39:16
Joel
And I think the biggest one we're going to see is around what we had Eagle Eye call marketing in the moment, which is we sort of talk about the same way that near me transformed search. We think that now is going to transform marketing for retail, that getting things to customers in the moment when they're thinking about it, looking for it, asking the question, shopping is going to be a huge game changer.
00:18:39:24 – 00:19:00:07
Joel
And I think the the digital channels are way ahead on this. There's lots of, you know, opportunity to do that in an eCommerce context. And I think what's really going to, you know, open the floodgates is the ability to do it as well in the physical store or outside the physical store. I'm you know, I'm in the parking lot arriving.
00:19:00:07 – 00:19:30:16
Joel
I'm at the shelves being out. What do I as a retailer want to say to the customer in that moment? What can I offer them based on based on what they're doing? So I think that's one of the big trends we'll see. We sort of talk about grocery shopping becoming a phone out experience. What can retailers offer me on that, you know, ubiquitous phone that everyone has in their pocket now to make my shopping experience better, faster, easier and deliver value to me.
00:19:30:16 – 00:19:56:00
Joel
So I think that's one of the big, big trends that lots of people are looking at right now. And then I think if we go a little further down the road, maybe a couple of things that we're watching that I think will be interesting as this whole idea of the gig economy and and enlisting your customers to play more of a role as part of the part of the system.
00:19:56:00 – 00:20:14:18
Joel
So two quick examples there. Every grocer I know has struggled to get a steady supply of interesting content, right? I'm going to hire a celebrity chef. They're going to do a video on a recipe. I got to do a photo shoot. I've got to shoot the video. I put it up on the site and then it's great for a week and then everyone's seen it.
00:20:14:18 – 00:20:50:25
Joel
And I think there's a real opportunity to do sort of, you know, what YouTube has done for video and start to crowdsource this stuff from customers. So what if I created an economy with my loyalty currency that said, there's got to be 10,000, 20,000, 50,000 really skilled home chefs in North America who would make great video content for me in exchange for discounts, loyalty points, whatever currency, you know, and that gives me this endless supply of content, you know, to engage the millions of customers that I have.
00:20:50:25 – 00:21:10:16
Joel
So I think that's one. And then the other that we're kicking around. And I think this would be an interesting one, you know, to explore further with Mercatus as well is eCommerce is exploding and a lot of that involves having pickers in the store, whatever the model is.
00:21:10:16 – 00:21:12:12
Mark
Yeah.
00:21:12:12 – 00:21:26:25
Joel
As a retailer I've got millions of customers in the store every day already who, if I can figure out a way to engage them, may be willing to become pickers for me again in exchange for loyalty.
00:21:27:20 – 00:21:28:11
Sylvain
Right? –
00:21:28:11 – 00:21:30:08
Mark
That's a cool idea.
00:21:30:08 – 00:21:52:07
Joel
If you think about the, you know, this like, whether it's you know, you know, pick your pick your vendor, right. Uber eats Instacart, whoever it is, they've enlisted these people to go and do this as part of the gig economy. But they, you know, they've got to drive there. You know, there's all kinds of pieces of that that have to happen and are baked into the cost.
00:21:52:15 – 00:22:12:24
Joel
If I'm shopping for my family's groceries, I'm already going to the store. I've already got my cart. And if you can figure out a way to say, hey, there's somebody who's coming to pick up an order in 20 minutes and they need these four items, can you add them? And I'll give you points in exchange. You've really cut down the effort.
00:22:12:24 – 00:22:35:21
Joel
And you know, people are crazy for for loyalty, currency. You know, people are really motivated by it. There's a lot of people who would be willing to throw a few extra items in the cart, drop it in the right, you know, cubbyhole at the front and you know, the orders ready to get picked. So I think there's a lot of interesting stuff that's that we're going to see that we've seen in other spaces outside retail that's probably coming down the pipe.
00:22:36:17 – 00:23:06:16
Sylvain
Yeah, I think those are just phenomenal ideas and it just it's a testament to how you guys, you're thinking at Eagle Eye in terms of really advancing what's happening in retail at and quite frankly fundamentally hit this for a retailer. Cost of serve change is the ability to retain customers is is that much greater now we know that there's some retailers out there in the market that are looking at that next evolution of a promotional platform.
00:23:06:16 – 00:23:14:10
Sylvain
So if you were standing in front of those, what would you advise them in terms of what they need to look for?
00:23:14:10 – 00:23:33:00
Joel
Yeah, great question. So, I mean, this is a conversation we have regularly at Eagle Eye, as you can imagine. And I think the the pieces that I would say are top of mind for me if I'm a retailer today choosing a platform are, you know, flexibility and future proof.
00:23:34:03 – 00:23:56:06
Joel
You know, I think what we say to clients is if you've got a promotional scheme or a loyalty program in mind that you are planning to launch, and as you evaluate tech vendors, they fit the exact needs of what you're trying to do and nothing more. You've got the wrong partner because you're going to want to change like you.
00:23:56:07 – 00:24:20:02
Joel
This might be what you're launching in six months, but it's not going to be what you need a year from now, 18 months from now, two years from now. And so the way we sort of think of it at Eagle Eye is we're going to come to you with this, you know, the SaaS platform that does, you know, thousands of different combinations and permutations of loyalty, mechanics and offers and engagement models and all of that.
00:24:20:11 – 00:24:36:23
Joel
And day one, you're going to reach into the box and you're maybe going to pick out three or four of those things and you're going to launch a great customer proposition and people will engage and you'll learn you'll measure. You'll tweak it six months from now. You're going to want to reach into that toolbox again and grab a couple of different things.
00:24:36:23 – 00:24:54:02
Joel
And at Eagle Eye we'd say they're all sitting there ready to go and you can just plug them in. We don't have to go and custom build them for you. We've been working with retailers for years. It's been battle tested in the real world. You know, a lot of our clients are leaders in the space who've been pushing us on innovation.
00:24:54:02 – 00:25:14:06
Joel
And so we've just got this set of tools that is going to adapt and be there. As you adapt because you'll have to. We all know that, you know, the program you launched today isn't the one that is going to serve you for 5- 10 years down the road without changing it. You're always going to be tweaking it and the pace of that is getting faster and faster.
00:25:14:06 – 00:25:37:12
Joel
So I think that would be top of mind. And then the second thing I would add that sort of tends to get sidelined is performance. There are a lot of, you know, and we run up against them in the market. What we would sort of think of as loyalty generalists, right? They work across many different industries and they have some loyalty tools.
00:25:37:23 – 00:26:16:05
Joel
And the reality is you get into the grocery space and they fall down under the pressure of the volumes because I think unless you've worked in grocery tech, it's hard to imagine the scale and speed of, you know, the complexity of number of items in the basket speed of transactions, number of transactions is just immense. And so I think that's the other thing I would do if I was picking is do some real stress testing on performance and speed and scale and make sure it's going to be there because there's nothing worse for a retailer than slowing down the lanes or having some transactions fail and get to get a customer disappointed.
00:26:16:07 – 00:26:19:07
Joel
So those would be, I think, two of the big things in my mind.
00:26:19:07 – 00:26:38:05
Sylvain
Yeah, I would say I said we lived through the latter. I mean, we're you know, we we stress at Mercatus creating a low latency environment and there is nothing worse where when an API fails, so our platform fails or there's an issue and so on.
00:26:38:05 – 00:26:41:13
Sylvain
And it's just it's detrimental to the customer experience. And customers-
00:26:41:13 – 00:26:42:01
Mark
Absolutely.
00:26:42:01 – 00:26:57:11
Sylvain
get frustrated. And retailers at the end of the day, it's this is this is something that they don't want to worry about. Joe, I really appreciated having you on episode one of season 6. How can people get a hold of you if they have follow up questions?
00:26:58:03 – 00:27:10:10
Sylvain
Yeah, great. So I think easiest way is look me up on LinkedIn. Joel Percy sent me a message, Happy to, happy to connect. And of course you want to learn about Eagle Eye eagleeye.com You can learn all about us there.
00:27:10:10 – 00:27:12:21
Sylvain
Awesome.
00:27:12:21 – 00:27:28:15
Mark
Thanks for watching and listening to our show. We've got more great episodes on Digital Grocer. com and we'd love to connect with you on social media @Digitalgrocer on Facebook, Instagram and linkedIn and @digital_grocer on Twitter.
00:27:28:15 – 00:27:34:06
Mark
Like subscribe and click that bell icon so you never miss another Digital Grocer podcast.
Show full transcript...